The Lion King soundtrack was the first CD I ever owned.
And boy did I get my money's worth out of that thing.
I used track #5 to figure out how to play "Can You Feel the Love Tonight" by ear on the piano, and then crafted a piano performance I enthusiastically subjected all of our babysitters to that year.
I developed a dazzling song and dance routine to "Hakuna Matata" that I just knew would woo Jonathan Taylor Thomas, should we ever have an opportunity to perform my routine together. I practiced my routine until it was flawless and rehearsed the song's lyrics until they were etched indelibly on my mind. To this day I have been known to walk through the house bellowing "When I was a young warthooooooooog……".
Jonathan Taylor Thomas sure missed out on something special.
Whenever I played the dark and menacing "Be Prepared", I lurked around the house pretending to be a dancing hyena; and when I skipped ahead to the orchestral music on the latter half of the CD I worked diligently to choreograph new age jazz routines. I have no idea what new age jazz is, but it sounds impressive.
Yesiree, the Lion King is responsible for a very colorful time in my life. So you can imagine my delight when yesterday, while sitting on the patio here in Sun Valley, I saw Timone dancing on our woodpile. No joke.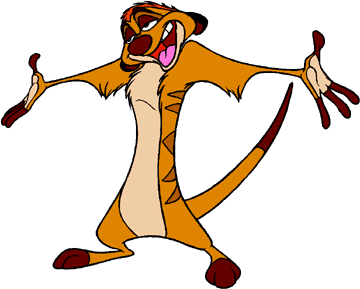 Okay, okay, it was probably Timone's great great nephew. But still, he was dancing on the woodpile.
Determined to document this once-in-a-lifetime experience, I whipped out my camera and crept stealthily to the woodpile. Thankfully, I had the foresight to refrain from bursting into the impassioned and no doubt moving rendition of "Can You Feel the Love Tonight" that was bubbling up my esophagus.
Or is it diaphragm?
But Timone still scrammed. And so I waited, and waited, and waited, until about 26 seconds had passed and I realized I could never be a National Geographic photographer.
And so, I just took a picture of the woodpile.
Now look at this woodpile and try to imagine Timone grooving like he has no worries for the rest of his days, his tiny feet frisking from side to side, his wide eyes shining with delight.
Can you see it?
Isn't it amazing?
Who would have thought: a desert mongoose in the mountains. In Idaho.
Of course experiences like this demand the consideration that I'm crazy or need glasses, and that maybe all I saw was a slender squirrel with a shaved tail. But my mom thought it looked like Timone too, and she has great intuition and vision.
So I'm not crazy, and I don't need glasses.
Hakuna Matata.